Are you allowed to know about what the police are up to in your community? And the Cougars playoff run begins
Plus, where will Hawksley Workman eat? Read to the end for a good TikTok about spring
Trying to make playoff fever happen
The Prince George Cougars begin their playoff run tonight with the first of two home games. Director of broadcasting for the franchise Cole Waldie does a good job of setting things up if you want to jump on the bandwagon.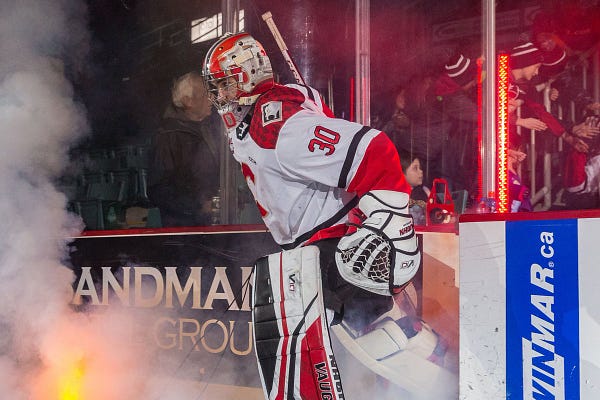 These first two nights will really set things up — is this going to be a team with home momentum ready to go deep, or are they going to struggle to make it out of the first round? And more importantly, can this be a Cougars town again?
---
Where will Hawksley Workman eat?
Celebrities: They're just like us — posting on social media asking strangers for restaurant recommendations when they visit a new city.
He's playing the ArtSpace tonight.
---
The RCMP's public communication problem
One thing I'm not sure the general public understands is just how reliant media is on police to get information about crime and safety in the community — or, put it another way: How difficult it can be to get that information if police don't think it's a priority to share it.
Back when I started in journalism in the olden days of 2009, the office I worked in had a police scanner. We could listen to that and hear the calls being responded to, and make our own judgements on whether to send someone out, report on it or send someone out there to see what was going on.
But over the past decade those scanners have gone silent as emergency responders switch to encrypted channels that freeze the public out. At the same time newsrooms have shrunk, reducing the number of resources that are out there for chasing sirens. Even if you do go the scene, it doesn't meant you'll find out what's going on. When Highway 97 was closed for five hours earlier this month I drove out there because I didn't really have much faith we'd get info from police in a timely manner. I arrived to find a line of more than 60 cars of people wondering what was going on. I walked to the front and listened to several people ask the police basic questions about whether there was any sense of when the road might re-open. There were people with babies, jobs to get to, etc and they were just told nothing at all - not even ballpark guesses like twenty minutes or at least a couple hours. As I was walking back I was stopped multiple times from people hoping for some basic information.
This pattern is one where RCMP don't have a culture of communication in which media and the public is treated with the basic right to know about what's going on in their community. That's not my opinion: That's one of the key findings in the more than 3,000 page Mass Casualty Commission report into the fatal shootings of 22 people across Nova Scotia three years ago which was released yesterday. From the CBC reporting on it:
The report took aim at the RCMP's response to the crisis, on almost every level. It called out a lack of preparation, a lack of communication and a lack of leadership — issues so pertinent and prevalent the commissioners are calling for a rethink of how the entire force operates. 
While a lot of this is around planning, a significant portion is also focused on communication both internally and toward the public:
Some of the harshest condemnation issued by commissioners was saved for the RCMP's decision to withhold information from the public. That included that the gunman had left Portapique — the rural area where his rampage began — and that he was disguised as a police officer and was driving across the province in that replica vehicle.

"The RCMP's failure … deprived community members of the opportunity to evaluate risks to their safety and to take measures to better protect themselves," wrote the commissioners.

Some victims' families, especially those who were killed on the morning of April 19, have been vocal that they believe their loved ones would still be alive if the RCMP had broadcast public warnings. 

…

In the report, the commission said the lack of public warning is "symptomatic of an institutional culture that undervalues community relationships and public communications."
And one of the recommendations is:
The RCMP's national communications policies should be revised to state clearly that the objective of the RCMP's public communications is to provide accurate information about the RCMP's operations, and in particular to respond to media questions in a timely and complete manner.
Let's dive into that one a bit more. Imagine that there were a heavy police presence in your apartment building, one of your neighbours was found dead and there were prominent blood stains throughout. You might imagine that more than three weeks after this happened, you may be allowed to know something about it — but you'd be wrong — there was an "altercation" and a "suspcious death" but that's really all the information that's out there, despite journalists asking for more. This is what I'm getting at — if police don't feel like you have any reason to know about something, they simply don't share the information.
And it's true — we might not have a need to know about what happened here, or in lots of cases. But the problem with that approach is when you have a culture of not telling the public about stuff, then that is the culture that is the dominant force in play when something happens that the public should know about. If the default is "don't say anything," then guess what you default to when the chips are down? Again, we've seen this play out before, close to home, a year before Nova Scotia when, in 2019, RCMP found a pair of young tourists from Australia and America shot dead along a northern B.C. highway. Their van was full of bullet holes, and there were no suspects in site. This is a remote area with huge chunks of road that don't have cell service and lots of spots without witnesses. What kind of public warning was issued? Well, the next day, RCMP put out this release:
And when they said no futher information is available at this time, they weren't kidding — I remember our newroom calling and asking for more details, and the comms department would not offer any additional information. Police said they couldn't talk about the identities of the victims, which I appreciate the desire to notify family, but I'm hard-pressed to understand why they couldn't mention the bullet holes or the fact that the victims were killed and the killers were out there. In fact, the people responsible went on to kill again, and while there is no way of knowing if the police being more forthcoming would have helped prevent that, I do know that I'm going to react differently to a release about two "suspicious deaths," and one indicating two people were shot to death and the killers are on the loose, quite a bit differently (a sentiment shared by people who lived in the area who were shocked to discover they weren't informed about this in a timely manner).
I wrote about this at the time, and RCMP never showed any indication that they saw value in being more forthcoming with information, at least not in respone to my queuries to them. And that's another part of this latest report I took interest in — how little the force seems to learn from its mistakes:
"In our process, it was apparent that the organizational structure of the RCMP both contributes to these failings and makes it challenging to hold the organization accountable for its work."
And a connected recommendation:
"The RCMP adopt a policy of admitting its mistakes, accepting responsibility for them, and ensuring that accountability mechanisms are in place for addressing its errors."
We'll see.
---
Quick news
Tiktok failed to load.
Enable 3rd party cookies or use another browser
---
Northern Capital News is a free, daily newsletter about life in Prince George. Please consider subscribing or, if you have, sharing with someone else.
Send feedback by replying to this email. Find me online at akurjata.ca.